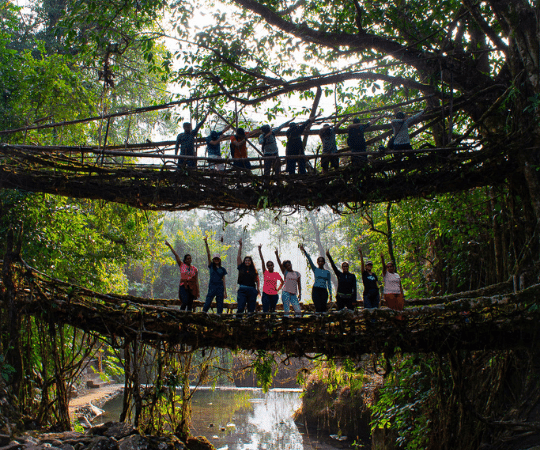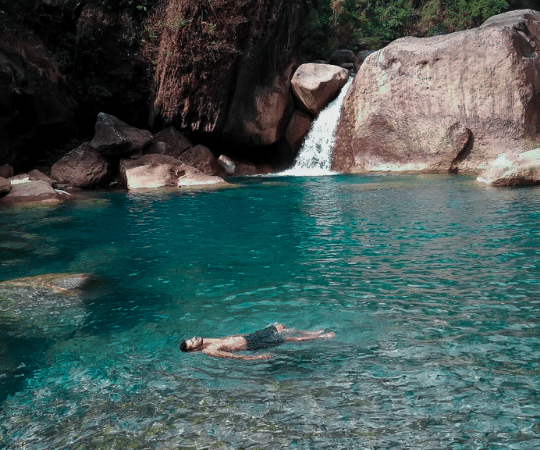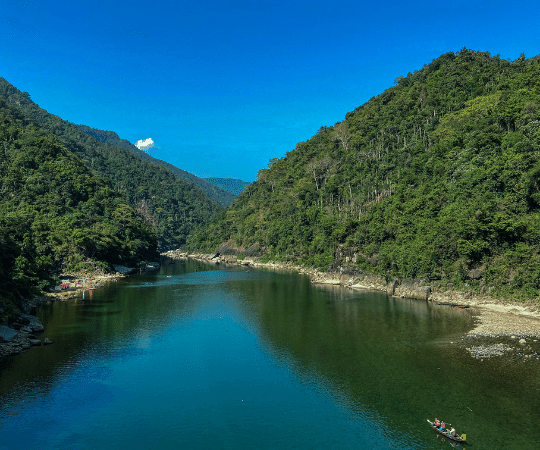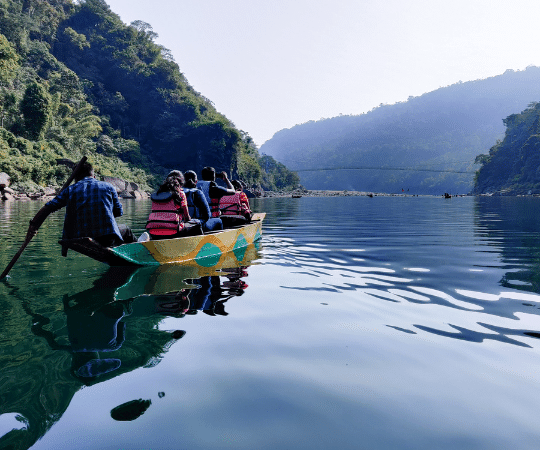 +7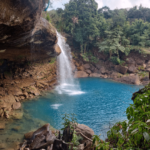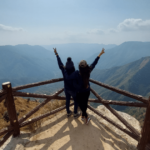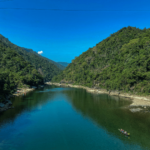 Tucked away in the hills of eastern sub-Himalayas is Meghalaya, one of the most beautiful State in the country. Meghalaya also known as 'the abode of clouds' is a cool, pine-fresh mountain state set on dramatic horseshoes of rocky cliffs. One of the world's wettest regions on earth are found here.
So, this year explore this beautiful land surrounded by tribal culture, folklore & great scenic beauty.
Highlights of the trip
Beautiful accommodations
Safari at Kaziranga National Park
Double Decker Living Root Bridges
Experience a rich culture
Boating in the Crystal clear Umngot River
Bathe in Secret lagoons
Visit and swim in numerous beautiful waterfalls
A visit to the cleanest village in Asia
Camping and bonfire by river
Panoramic Laitlum Canyon
Airport Transfers

All transport in a Tempo traveller or a Innova/similar

Accommodation on Twin Sharing Basis in Hotels (5N) & Camps(1N)

Breakfast - Day 2 to Day 7, Dinner on Day 5

Entrance fees to all places listed in the itinerary

Jeep Safari at Kaziranga National Park

Orchid Park Kaziranga

Boat ride at Umngot River

Bonfire at Shnongpdeng

Company of a fun & experienced Trip Lead

All permits

Wandering Souls Merchandise

Post & Pre Trip Support

Memories of a lifetime
Train/ Air fare

Lunch & Dinner on all days except Dinner on Day 5

Any shopping or personal expense

Any activities such as kayaking, cliff jumping, elephant safari etc.

Tips to hotel/camp staff and driver

Anything not mentioned in the inclusions
Day 1 - Guwahati Airport to Kaziranga | Overnight at Kaziranga
Reach Guwahati airport latest by 11.00 am. After a brief introduction, We will head towards Kaziranga and have our Lunch en route. We will reach Kaziranga by evening. As soon as we get near Kaziranga, you can see wildlife from the Highway itself and if lucky you can spot the one horned Rhino as well. Relax after a long drive. We end the day with some fun and games.
Day 2 - Kaziranga to Shillong | Overnight at Shillong
We get up early morning to explore Kaziranga. You can opt for Elephant Safari after which we go for Jeep Safari to spot various wildlife in their natural habitat especially the One Horned Rhino.
We then check out of our hotel an head towards Shillong. It is a 5-hour drive from Kaziranga to Shillong.
We will stop at Umiam Lake on the way and soak in the beauty of this man-made lake that was created by damming the Umiam River. We reach Shillong by evening, check into the hotel and head out for Dinner. Overnight at a Hotel
Day 3 - Laitlum Canyon & Wei Sawdong Waterfall| Overnight at Cherrapunji
After breakfast, we check out from the Hotel and head towards Laitlum Canyon. The name 'Laitlum Canyons' literally means "end of hills". It offers panoramic views of the region embraced by the majestic hills and valleys.
After that we leave for Cherrapunji and visit Wei Sawdong Waterfall, you will fall in love at first sight of this three step waterfall.
Check into our hotel by evening.
Day 4 - Double Decker Root Bridge | Overnight at Cherrapunji
Wake up early in the morning and start our trek to the Double Decker Root Bridge & Rainbow falls.
The hike from Tyrna to Nongriat is a bit steep with around 3500 steps to reach the Double Decker Living Root Bridge, the walk is refreshingly green, once you reach you will forget all your fatigue. The living root bridge is a sight to behold. It takes generations to build these bridges.
Those who can will head towards Rainbow falls. It's a 1.5 hour hike to reach the falls.
There are small secluded water bodies on the way to Rainbow falls which are perfect for a refreshing dip.
We trek back to Tyrna by evening and return back to our cozy stay and comfort of our beds after a long and tiring trek.
Day 5 - Caves & Cleanest Village | Overnight at Shnongpdeng
After breakfast check out of the hotels and visit Mawsmai Caves. You do not have to be a professional spelunker to get a taste of Meghalaya's cave systems. You do have to squeeze around and crawl which adds to the fun of cave exploration.
We then visit Nohkalikai Falls – the tallest plunge waterfall in India and then mov towards Mawlynnong
Mawlynnong – it won the award for cleanest village in Asia in 2003. On the outskirts of the village you can see the balancing rock – another of nature's wonder. We will also visit Nohwet Living Root Bridge near Mawlynngong.
Afterwards we visit Dawki to see the India – Bangladesh Border.
We then head towards Shnongpdeng  to camp besides the Umngot River. The day ends with bonfire besides the River. Overnight Camping
Day 6 - Boating, Water Sports & Phe Phe Falls | Overnight at Shillong
You all would have seen the images of the crystal-clear waters of Umngot River. The water is clear, you can peer into the bottom and count the stones – that is how the Umngot River can be described during the peak pre-monsoon, autumn, and winter seasons. Now it's our time to go for a boat ride on this river. You can also opt for other adventure activities like for cliff jumping, snorkelling, kayaking etc.
There is also a bridge that spans the Umngot River and allows for fantastic pictures and perspectives
We then visit Phe phe Waterfall on our way to Shillong. Phe phe Waterfall is one of the most scenic waterfalls in Meghalaya.
We reach Shillong by evening, freshen up and go explore some of Shillong's nightlife on our last night.
Like all the good things this trip must also come to an end. After breakfast, check out from the hotel, we will visit wards lake in morning if time permits. Leave for Guwahati Airport. Say your goodbyes, this brings us to the end of an EPIC adventure and beginning of an era of travel stories with Wandering souls. Come back for more and more.
1
Per Person
General price:
Per Person ()
₹

26500 / ticket
1
Per Person
General price:
Per Person ()
₹

26500 / ticket
How will you contact me once I register?
We will be mailing you the details a day or two before the event.
Yes, many of our participants are solo travellers.
Is it safe for a female solo traveller?
It is completely safe for a female solo traveller as our representatives will be there with you all the time. Moreover, most of our events have 60% female participation.
What if I have a medical emergency?
We will carry first aid kit with us. The coordinators will be first aid certified. If the problem increases, we will quickly get you to closest medical attention possible.
Would I get cellular connectivity Meghalaya?
Yes, you will get cellular connectivity in Meghalaya
What type of food will I get in Meghalaya?
We will be having our Breakfast at our stays. Lunches & Dinners we will have locally during our road trip and at our stays.
What kind of clothing we need to carry for this trip to Meghalaya?
Comfortable clothing with some winter wear as it could get cold. A detailed list will be mailed to you.
The group size will be between 4 – 16 Trippers
What is the age group for Meghalaya Trip?
The age group for this trip is 18-40
What is our Stay like in Meghalaya & Kaziranga?
We will be staying in 3* Stays at Cherrapunji, Shillong &  Kaziranga & Camps at Shnongpdeng. The Hotel list is as follows:
Kaziranga – BonVilla/Similar – 1 Night
Cherrapunji: Sa-I-Mika Resort/ Escapade Inn/Similar – 2 Nights
Shnongpdeng: Riverside Camping – 1 Night
Shillong – Eee Cee Hotel/Similar – 2 Nights