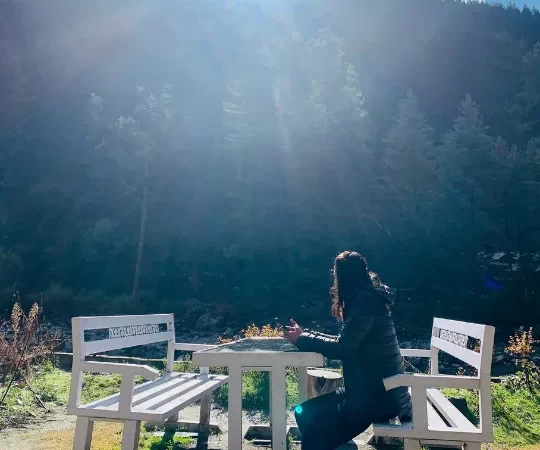 +6
An ideal world, made of flowing streams, majestic mountains and green trees. A valley with stars, under the dark skies. The light, the sun, filtered by clouds, sliding over the looming mountains. Wandering souls will help you experience all this and a lot more.
Himachal literally translates to "the land of snow". It is blessed with scenic beauty, serene landscape and intricate chain of mountain ranges. Situated in the western Himalaya, it has several hill stations and is a truly a backpacker's paradise. On our trip we try to cover the prominent places of 'Adventure hub' Kullu Valley, 'Hippie capital' Parvati Valley and 'Offbeat' Tirthan Valley. We will be visiting gorgeous town along the Beas River – Manali, famous cafés of Old Manali, thrilling snow-filled Solang Valley, 'Mini Israel of India' Kasol on the banks on the soothing Parvati river, mesmerizing hidden 'hamlet' and a major attraction of our trip – Tirthan, most scenic Jalori pass, the astonishing Serolsar Lake and much more.
This backpacking trip will bring to you the raw beauty of Himachal Pradesh where we will wander through the mountain roads, click photos at numerous 'insta'-worthy spots, chill by and dip our feet in rivers, satiate the adventure junkie in us, meet amazing new people, try delicious food, take long walks in nature, lie down under billion stars and spot shooting stars, have long conversations, play fun games and really live each & every moment.
Awe-Inspiring Landscapes
The Breathtaking Parvati Valley
Solang Valley
Excursion to Sissu
Manikaran Sahib Gurudwara
Trek to the beautiful Serloskar Lake
Enchanting Tirthan
Travel from Delhi to Himachal and back in A/C Semi Sleeper Volvo

All internal transport in a traveller or a Innova/similar

Accommodation on Double sharing basis in at all destinations as per the itinerary

Breakfast & Dinner(14 meals) at all the Stays from Day 2 Dinner to Day 9 Breakfast

Entrance fees to all the places listed in the itinerary

All permits

Post & Pre Trip Support

Memories of a lifetime

Wandering Souls Merchandise
Train/ Air fare

Lunch on all days

Breakfast on Day 1, Day 2 & Day 10

Dinner on Day 1 & Day 9

Any shopping or personal expense

Tips to hotel staff and driver

Anything not mentioned in the inclusions

Adventure Sports or any other activity not mentioned in the Inclusions
24th Dec – Day 1 – Report at Delhi | Overnight Journey to Manali
Meet the Wandering Souls Team and other fellow travellers at Majnu ka Tilla by 7pm. Overnight Journey to Manali
25th Dec – Day 2 – Arrival in Manali | Local Sightseeing
Check into your hotel, after freshening up, you can relax and get acclimatized.
In the afternoon, embark on local sightseeing:

Visit the Hadimba Temple, a beautiful wooden temple surrounded by cedar forests.
Explore Van Vihar, a nature park with lush greenery.

In the evening, head to Mall Road, Manali's bustling shopping and dining hub.
Explore Old Manali, known for its charm and distinctive culture.
26th Dec – Day 3 – Solang Valley and Vashisht Temple
Enjoy a hearty breakfast at your hotel.
Your day's adventure takes you to Solang Valley, famous for its open landscapes and sports activities like paragliding and zorbing.
After a thrilling experience at Solang Valley, visit the Vashisht Temple known for its hot water springs.
In the evening, you can explore more of Old Manali or indulge in shopping.
Return to your accommodation for the night.
27th Dec – Day 4 – Manali to Keylong via Atal Tunnel
Start your day with breakfast at the hotel.
Today's journey takes you on a road trip from Manali to Keylong.
Along the way, you'll have the opportunity for sightseeing:

Explore the impressive Atal Tunnel, a marvel of engineering.
Stop at Sissu to enjoy the scenic views and landscapes.

As you travel through the Lahaul Valley, be captivated by the beautiful mountains.
Return to your hotel in Manali for a comfortable night's rest.
28th Dec – Day 5 – Manali to Kasol via Nagar Castle and Manikaran
After breakfast check out from the Hotel.
Before heading to Kasol, we'll visit:

Nagar Castle, an ancient and historical site.
Roerich Art Gallery, displaying the works of the famous Russian artist Nicholas Roerich.

Drive to Kasol, a renowned part of the Parvati Valley known for its hippie culture.
We will visit Manikaran, famous for its hot water spring.
Spend the evening exploring Kasol's market, cafes, and the beautiful Parvati River.
Overnight stay in Kasol
29th Dec – Day 6 – Local Sightseeing and Tosh (Weather Dependent)
Enjoy a leisurely breakfast at your Kasol accommodation.
The day offers several options based on your preference and weather conditions:

Explore Tosh, a magnificent village in the Parvati Valley known for its snowy landscapes and lofty mountains (subject to weather conditions).
Alternatively, visit other recommended places like Kalga, Phulga, and Tulga.

In the evening, return to Kasol and spend your time in hidden cafes or explore other places around Kasol like Chalal.
Rest for the night at hotel in Kasol.
30th Dec – Day 7 – Kasol to Tirthan
Check out and embark on a scenic drive to Jibhi in the Tirthan Valley, covering approximately 90 kilometers.
Local sightseeing opportunities include visiting the Jibhi Waterfall and Shring Rishi Temple.
You have the option to visit Chenni Fort, a beautiful 15th-century architectural marvel, which can be reached after a 30-minute walk.
In the evening, explore local market and cafes.
Spend the night in Tirthan
31st Dec – Day 8 – Jalori Pass Visit and Local Exploration
After a satisfying breakfast, we visit Jalori Pass, a picturesque destination known for its incredible road trip.
Explore Soja and take a trek to the Serloskar Lake, which is around 5 kilometers.
Spend the evening in market and cafes.
Welcome the New Year in the embrace of the Himalayas
1st Jan – Day 9 – Departure
Enjoy your breakfast at the Hotel.
Check out from your hotel and we will visit any of the places missed the previous 2 days
In the evening we will catch the Volvo back to Delhi
2nd Jan – Day 10 – Reach Delhi early Morning
We will reach Delhi in the morning.  you can either catch a train or a Flight back to home. Please book your train or flights which leave post 12pm to factor in any delays. Say your goodbyes, this brings us to the end of an EPIC adventure and beginning of an era of travel stories with Wandering souls. Come back for more and more
24
Per Person - Triple Sharing
General price:
Per Person ()
₹

24900 / ticket
Identity Proof
Durable/Reusable Water Bottles
We will be sending you a details list of what to bring and what not to once you register
What is the age limit for this trip?
The age limit for this trip is 16-45.
How will you contact me once I register?
We will be mailing you the details once you register and creating a WhatsApp groups 2 weeks before the trip
Can I come alone?
Yes, many of our participants are solo travellers.
Is it safe for a female solo traveller?
It is completely safe for a female solo traveller as our representatives will be there with you all the time. Moreover, most of our events have 60% female participation.
What if I have a medical emergency?
We will carry first aid kit with us. The coordinators will be first aid certified. If the problem increases, we will quickly get you to closest medical attention possible.
What is the stay like for this trip?
We will be staying in Hotels & Homestays for the Duration of the trip on twin sharing basis. In an unlikely case of odd number of male/female participants 1 or max 2 rooms will be triple sharing(only where the room is big enough)
Manali - White Hill Resort
Kasol – Dev Lok International
Tirthan – Shardha Resort
Would I get cellular connectivity in Himachal?
You will get intermittent cellular connectivity in Himachal
What type of food will I get in Himacal?
We will be having our Breakfast & Dinners at our stays. Lunches  we will have locally during our road trip and sightseeing trips.
What is the group size?
The group size will be between 6 – 16 Trippers